A wool sweater is a classic wardrobe staple that will keep you warm and stylish on your trip. Pair it with a women's fleece jacket for extra warmth.
Some wool sweaters may be itchy, but this itchiness typically subsides with regular wear and washes. Many wool sweaters are made from a mix of materials, and some are machine washable.
Merino wool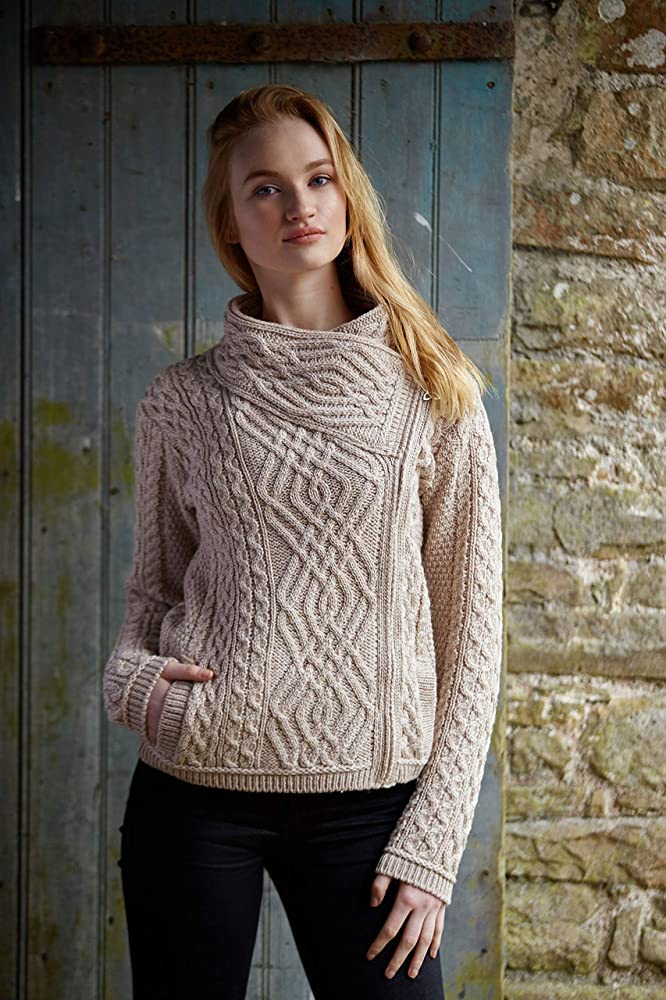 Merino wool is the ultimate comfort for cold-weather travel. It's breathable, which can help keep you cool in hot weather while insulating your body against the cold. In addition, it's odor-resistant and resists wrinkles. It's a great option for men and women who want to travel comfortably without sacrificing their fashion sense.
One of the best things about Merino is that it's incredibly soft to the touch and won't itch. It's also very durable, especially when washed correctly. Always check the care instructions on the label, and avoid fabric softener, which can coat the garment's fibers, preventing them from breathing and wicking moisture. Washing your merino sweater in cold water is also recommended, and using a mesh laundry bag reduces the risk of bobbling.
Another good thing about merino is that it's naturally elastic, meaning it will stretch with your body but recoil back to its original shape. This is especially helpful for people with a larger build, as it can provide a more flattering fit. The elasticity of the material also helps prevent creases.
If you're looking for the perfect merino wool sweater on your next adventure, look no further than this ribbed mock neck from French retailer Sezane. It's crafted from polyamide, super kid mohair, merino wool, and viscose, so it's incredibly soft to the touch. Plus, it has gorgeous gold button hardware that adds a sophisticated finish to this cozy sweater. If you're on a budget, this sweater is also available at a more affordable price.
Shetland wool
Shetland wool is a thick fiber from sheep living in Scotland's Shetland Islands. It is not as soft against the skin as lambswool but is a durable and warm fabric. It also holds its shape well and is ideal for sweaters with intricate stranded motifs. Shetland wool is also known for its beautiful colors and markings.
Shetlands are bred for hardiness, which makes their wool perfect for rugged winter wear. They also have protected status in Europe, so you can be sure that any Shetland wool sweater is pure and authentic. This wool is great for layering over other fabrics, so you'll stay warm all day long.
Men's Shetland wool sweaters come in various styles and price ranges. Some are more affordable than others, but they all share the same warmth and durability. Some of these sweaters even feature a Shetland heritage label, which adds to their authenticity and value. The Shetland heritage label is important because it indicates that a company in the Shetland Islands made the product.
The most popular Shetland wool sweaters are those from Pendleton. These are a bit more expensive than others, but they're still worth the investment. They're also incredibly durable, so they'll last you for years. The sweaters also feature a unique pattern inspired by Shetland's history.
A Shetland wool sweater is perfect for those who want to wear a classic style while still looking modern. Mixing and matching Shetland sweaters with other pieces is easy, making them a versatile option for casual and dressy outfits. For example, a Shetland sweater can be paired with jeans and boots for a laid-back look or with a button-up shirt and khakis for a more formal look.
Pointer wool
The best wool sweaters offer insulation and versatility while conveying a relaxed, self-assured style. Whether you want a light cardigan or a heavily ribbed pullover, many types are available to fit your tastes and preferences. To ensure your wool sweaters last long, choose one made from natural materials with minimal dyeing or bleaching. You should also opt for a wool-safe laundry detergent. Most sweaters should be hand washed, but you can pass some by machine. If you wash your wool sweaters by hand, fill a tub with cold water and submerge the item. Add a small amount of detergent and allow it to soak for 30 minutes. Then, gently squeeze out the excess water and re-submerge your garment. Rinse it and dry it with a soft towel.
To be environmentally friendly, consider purchasing a cotton-wool blend sweater from Closed. This sweater is OEKO-TEX(r)-certified and made from organic cotton and recycled cashmere. It is also sourced from a supplier that meets Nordstrom's Responsible Manufacturing standards. It is not the softest sweater on this list but it is still incredibly comfortable and stylish. This oversized sweater features a classic silhouette, ottoman stitching on the cuff and hem, and a subtle stripe pattern. Pair it with dark-washed jeans, a tailored skirt, and drop pearl earrings for a smart-casual look.
The striped Fisherman Sweater is another great option for GSPs and similar breeds. Its lightweight lambswool is sheared when the fibers are at their softest, then spun by one of Scotland's oldest spinners. The result is a sweater that looks great with denim and can be worn over a blazer in cold weather. It is also machine washable and has a hole for leashes.
Alpaca wool
Whether you're looking for a lightweight, versatile knit or something warm and cozy for colder weather, men's alpaca sweaters are an excellent choice. The sweaters come in various styles to suit any kind, and they're perfect for casual occasions from fall through spring. The best part about these wool sweaters is that they're made of natural and environmentally friendly materials. Alpaca wool is also hypoallergenic, so it's a great option for people sensitive to thread.
However, some people may find that alpaca wool is itchy, especially if they have very sensitive skin. This can be a problem if you're not careful when selecting a sweater that contains this type of fiber. The best solution is to look for a men's sweater made of baby alpaca wool. This wool is softer than regular alpaca wool and won't cause itchy irritations.
Alpaca wool is considered a luxury and exclusive fiber that can be expensive. However, it's a sustainable and renewable material that can last long when properly cared for. This makes it an investment that's well worth the price.
Alpaca wool is incredibly soft and three times warmer than sheep's wool, and it contains zero lanolin, which many people are allergic to. Its hollow core also helps to insulate your body heat and push away moisture. Moreover, it's an extremely durable and sustainable, hypoallergenic, and odor-free material. It's important to note that you should only buy men's alpaca sweaters from reputable manufacturers that use certified organic and fair-trade yarns. This way, you can be sure you're getting the best possible quality and will feel comfortable wearing your sweaters throughout the winter.
Lopapeysa wool
Lopapeysa is a traditional Icelandic wool sweater designed to withstand harsh Nordic weather. The sweaters are made from unspun sheep's wool and feature a unique pattern to Iceland. This wool is very dense, which makes the sweaters warm without being too heavy. It is also water-resistant and very durable. In the old days, making a lopapeysa took several weeks. It started with raging the sheep to collect the wool, then combing and spinning it into a band that could be used for knitting. This took a lot of time and was a labor-intensive task. Today, the entire process of a lopapeysa is much faster and more efficient.
The Lopi is an important part of Iceland's culture and heritage but is not as ancient as one might think. The sweater was first designed in the mid-20th century due to increased industrialization and importation to Iceland. It is believed that Audur Laxness, the wife of Halldor Laxness (Iceland's only Nobel Prize winner), was behind the original design. Today, the Lopi has many variations, including different colors and patterns. It can be worn with a zipper, buttons, or even a hoodie.
If you're interested in buying a lopi, the best place to purchase it is from a local shop in Reykjavik. You can also find authentic Icelandic knitwear online, but you'll pay more for shipping and handling fees. You'll have the best chance of finding a genuine lopi in the Handknitting Association Store, which has two shops in downtown Reykjavik.
Although a lopi is a must-have for any Icelandic traveler, it is also a great gift for friends and family visiting the country. It is not just a sweater; it's a symbol of the Icelandic people's strong connection to nature and their Viking heritage. The book's subtitle, "Follow the Thread," suggests that a lopi is like a lifeline to Iceland's history.